This article was originally published at: https://herforward.com/7-female-qualities-that-will-help-you-climb-the-leadership-ladder-according-to-women-entrepreneurs/
In recent years, more and more women have achieved leadership positions in all sorts of fields. Female leaders can bring a unique set of skills to the table that not only helps businesses thrive through adversity but also makes them great bosses in the eyes of their employees.
So, what can men learn from women leaders? We interviewed seven female entrepreneurs to ask their opinion on the qualities that make women great in leadership positions. 
1. Empathy 
According to Tamika Carlton, SEO expert and founder of Couples Experience, women make great leaders thanks to their empathy. "Stats show women are more empathic than men," says Carlton. "When leading a team, empathy provides substantial value in identifying that the one size fits all approach does not lead to success. All team members should be trained, communicated with, and guided to be the best selves in their positions based on their unique needs. Empathy does that."
Carlton also stresses how women's empathy helps create a healthy working environment where everyone feels valued and fulfilled. According to her, this will greatly benefit every business as it will contribute to its longevity. 
2. Openness to new perspectives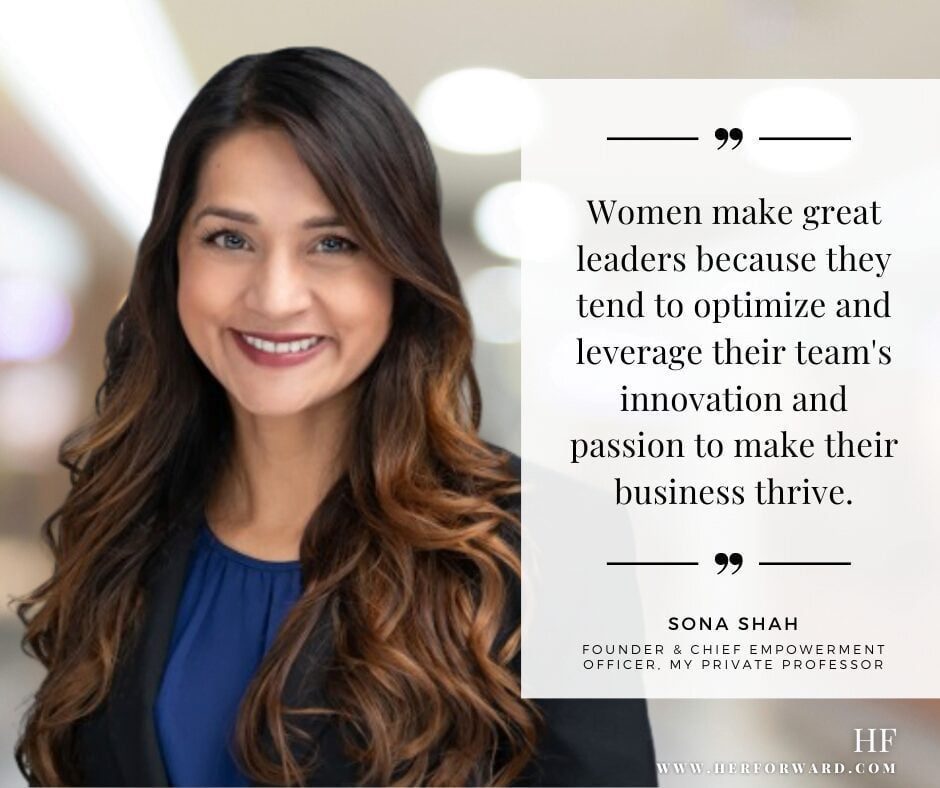 Sona Shah, Founder and Chief Empowerment Officer of My Private Professor, believes that women perform remarkably well in leadership positions thanks to their openness to new perspectives. "Women make great leaders because they tend to optimize and leverage their team's innovation and passion, making their business thrive," said Shah.
This is why, for years, her team has organized weekly brainstorming sessions to dive into specific aspects of their business model. The focus of these meetings is to listen to everyone's opinions and consider new ways to improve their customer experience.
"Successful leaders create a space in which they value thoughtful ideas and encourage out-of-the-box thinking and collaboration within and across departments through authenticity and an openness to all perspectives," said Shah.
3. Long-term perspective 
According to Nilou Shahryari, Founder & CEO of ONO Overnight Oats, another great quality shared by most women is their ability to focus on long-term consequences. This is a fundamental skill that all business owners should master to bring longevity to their businesses. According to Shahryari, women "place a greater emphasis on the consequences of their decisions (impacting people, profit and planet) long term versus just short term."  
4. Natural visionaries 
Amy Sinton, a Personal Life and Business Coach, strongly believes in the strength of women's visionary nature. "I think that women make great leaders because we are natural visionaries. We know what we want to achieve," said Sinton.
According to her, this is a key skill to becoming a great leader. This is why, when she coaches people, she often asks thought-provoking questions, pushing her clients to reflect on what they want and what they need to achieve to accomplish their goals.
According to Sinton, women also use this skill to empower their employees. "As a leader, I think that enabling others to get things done, by giving them tools, motivation, and support is very important," said Sinton.
5. Encouraging attitude 
Unlike their male counterparts, women constantly have to go through a variety of extra challenges both in and outside their entrepreneurial journey. According to Kathy Roberts, CEO of Switch Reward Card, this helps them develop a strong problem-solving mentality as well as an encouraging attitude. "Women typically have dealt with a wide variety of challenges, at home, in education, in the workplace, and in caring for family members," said Roberts. "These challenges, in my opinion, are why women who become leaders are more likely to find solutions quickly and inspire those they work with to strive for excellence, thereby improving employee morale and building trust among employees."
6. Inclusiveness 
Inclusivity is another main skill that most women leaders share. According to Aunia Kahn, CEO of Rise Visible, this is key to success as a business owner. "Women make excellent leaders and entrepreneurs because they are typically more inclusive," said Kahn. "Inclusivity creates a more diverse company culture which can improve a company's image and maximize the team's skill sets." According to her, inclusivity has the power to enrich a company's reputation and bottom line by providing diverse solutions and strategies to tackle problems and achieve every goal. 
7. A new perspective to the table
In today's society in which men have dominated the entrepreneurial landscapes for decades, women can also bring new revolutionary perspectives to the table. According to Mila Alishaev, Founder and Owner of Manhattan Laser Spa, women make great leaders as they "know certain angles men sometimes have never even ventured into."
According to her, thanks to their unique perspective, women have now achieved a strong presence in the business world and will keep "moving forward and taking on leadership positions."
This article was originally published at: https://herforward.com/7-female-qualities-that-will-help-you-climb-the-leadership-ladder-according-to-women-entrepreneurs/