This article was originally published at: https://herforward.com/bumble-pioneering-female-empowerment/
Whitney Wolfe Herd, the founder and CEO of Bumble, stands as a testament to the power of resilience, innovation, and unwavering commitment to one's values. Through her journey, she has transformed her own personal adversities into unique opportunities, challenged societal norms, and championed the cause of respect and kindness in an often impersonal digital world. This article explores Herd's career trajectory, charting her path from modest beginnings to becoming a force to be reckoned with in the tech industry. We delve into the inception of Bumble, Herd's pioneering role in advocating for female empowerment, and her relentless fight against online abuse, providing a comprehensive insight into a journey that resonates far beyond the realms of business.
The Evolution of Bumble
Whitney Wolfe Herd, the CEO and founder of Bumble Inc., has played a significant role in shaping the landscape of online dating. Her commitment to addressing gender imbalance in dating, combined with an innovative business approach, has led to the creation of a platform that seeks to empower women in the digital space.
The Inception of Bumble
In the tech industry, the story of Bumble's beginnings in 2014 is now almost legendary. The operation was as modest as it could be, conducted from a two-bedroom apartment with a skeleton crew of four. Under Herd's steadfast leadership and unwavering vision, the team faced and overcame the challenges inherent in building a startup from scratch.
By 2021, Bumble had grown from these humble beginnings into a publicly-traded company, a milestone marking not just the growth of a business, but a societal shift, as Herd became the youngest female CEO to take a company public.
Accolades and Milestones
The recognition of Herd's work extends beyond the sphere of her business. Her innovative role in tech has landed her on esteemed lists such as TIME Magazine's '100 Most Influential People' and Forbes' '30 Under 30′.
But perhaps more significant than individual accolades has been her work to combat the specter of online harassment. In 2019, Herd was instrumental in enacting a law in Texas against cyberflashing, marking a significant step in the fight for online safety.
Bumble: A Platform for Empowerment
Personal experiences often inform our actions and decisions. In the case of Herd, the harassment she encountered online became the catalyst for Bumble's formation. The goal was not just to create another dating app but to provide a safer, respectful, and empowered online environment, particularly for women.
Shattering traditional dating norms, Bumble was designed to give women the agency to initiate interactions. While the idea was initially met with skepticism, Herd remained undeterred, seeing the underestimation as an opportunity to prove critics wrong.
This philosophy of gender equality is mirrored within the company as well. Bumble's board is made up of 73% women, a marked contrast to many organizations where leadership remains predominantly male.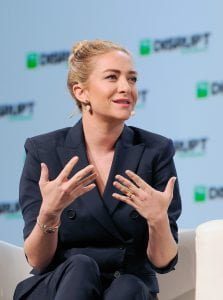 Top 5 ways that teach lesson from Herd's journey
Turning Challenges into Motivation
One of the lessons Herd's journey underscores is the power of converting personal adversities into fuel for achieving goals. Her encounters with online harassment were not just challenges but motivators that drove her to create a safer platform for women in the digital world.
Knowing Oneself and Building a Team
Recognizing one's strengths and limitations is crucial in any leadership role. Herd's emphasis on this point is not just about self-awareness, but about building a diverse team whose skills can complement and balance those of the leader.
Rethinking Traditional Rules
Herd's path to success hasn't followed a conventional route. Her experiences highlight the value of discarding outdated rules and creating new ones. The inception of Bumble, a dating app where women initiate the conversation, stands testament to this belief.
Prioritizing Mental Health
While the tech industry often glorifies hustle culture, Herd champions the importance of work-life balance and mental well-being. Under her leadership, Bumble has adopted policies like company-wide weeks off and an unlimited paid time-off policy.
Upholding Core Values
With the values of honesty, inclusivity, accountability, and kindness at its core, Bumble's work culture is a reflection of Herd's beliefs. It's a reminder that the pursuit of success is not just about financial gains or market share but also about how those goals are achieved.
This article was originally published at: https://herforward.com/bumble-pioneering-female-empowerment/