This article was originally published at: https://herforward.com/entrepreneurial-hurdles-advice-from-women-leaders/
Every entrepreneurial journey is full of obstacles, bumps, and setbacks. There's no way around it. If you want to succeed, you will have to constantly face struggles and learn from them. Especially as a woman, the challenges along the way will be many, from difficulties in securing funds to finding the right work-life balance and building a support system. Luckily, many successful entrepreneurs have already been there and are now here to share their advice. 
The confidence gap 
According to Nehal Shah, founder & CEO of a luxury makeup brand Nehal & Co., women have difficulties in demanding what they deserve. "It's a known fact that there is a confidence gap between men and women in the workplace. Men feel more confident and are more likely than women to self-promote," said Shah.
This entrepreneur noticed that the confidence gap had an impact on her business when she started to discuss equity distribution with her two male business partners. At the time, Shah was the only one working full-time and had the most experience. Despite this, her business partners did not think she deserved more equity. "I quickly realized that this was due to the confidence gap," said Shah. She, therefore, reached out to some of her mentors and came to the conclusion that neither of her business partners felt as passionate as she did about the company's missions and that it would be a mistake to move forward with them. "Don't undervalue yourself and don't be afraid to ask for what you deserve," said Shah. 
Raising capital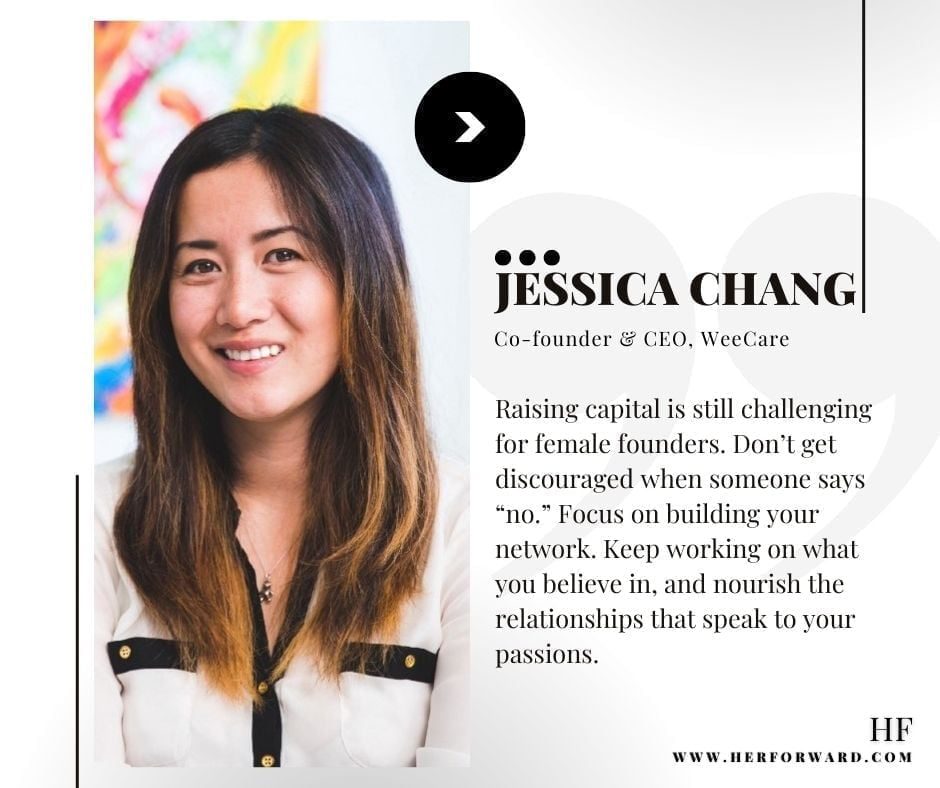 Women are also less likely to receive funds for their companies. Jessica Chang, WeeCare's CEO and co-founder, had a hard time finding investors when she first launched her business. The aim of her company is to make childcare accessible to all, but according to her, "Although almost one in five U.S. families reported spending more than 25% of their income on childcare, it hasn't necessarily been a lucrative business." 
After struggling to find the right investors, Chang eventually managed to raise enough capital. "Don't get discouraged when someone says 'no'. Focus on building your network. There is absolutely no one you cannot meet in today's world," said Chang. "Keep working on what you believe in, and nourish the relationships that speak to your passions. They might reassess and come to you later when the time is right."
Put yourself in new rooms 
Sandra Velasquez, founder of Nopalera, a Mexican Botanical Bath & Body line based in NYC, thinks that the key to becoming a successful entrepreneur is constantly putting yourself in new rooms.
When she started her business, Velasquez was an outsider to the beauty industry and had to find ways to integrate into the community. According to her, the best way to do so is "To be hungry to learn and willing to meet new people." This is why Velasquez joined as a mastermind filled with 2000 women entrepreneurs who are at different stages. "It is absolutely critical that you surround yourself with people who have a growth mindset. (…) In order to grow a business you first need to grow as a person," said Velasquez.  
Find your ideal work-life balance 
According to Alice Eve, Marketing Director of Cicinia France, a brand designing bridesmaid dresses, one of the biggest challenges women have to face is to achieve a healthy work-life balance. "The automatic assumption that I will be cleaning and cooking even after a long day at work made me hesitant to devote my full potential to my professional life," said Eve.
To solve the problem, Eve decided to rank her priorities in order of importance. "I can work extra hard one week and spend the next week with family, a steady balance between the two. This assists me in being where I need to be at the right time and not missing anything," said Eve. 
Build a support system 
Having a strong support system is an absolute must if you want to succeed. However, too often women tend to be hesitant to ask for help. According to Emma Guo, co-founder and CEO of Offsyte.co, a one-stop shop for discovering and booking team events, "Running a startup company is a lot of fun and very rewarding, but this journey has many ups and downs. There are always new things and challenges to navigate, from hiring to fundraising to growing a company. Sometimes you just need to talk to a founder friend who's going through the same challenges." This is why Guo believes that building a support system is a fundamental step when starting your entrepreneurial journey. She managed to create her own by effectively leveraging her network and making an active effort to connect with startup founders. 
Be open to changing your 'how'
In today's entrepreneurship, you constantly have to adapt to the ever-changing landscapes if you want to succeed. However, change can be hard to face. Mahogany Ellis-Crutchfield, founder of a brand of recyclable gift wrap called GiftyWrap, believes that "It's important that you understand your brand, your why, and who you are, but the 'how' may look different from your original vision."
When Ellis-Crutchfield started her company, she planned it to be a service business. Through clients' feedback, she soon realized that creating her own product line would be the right step forward. "Two years in, my business looks completely different than I had originally imagined and I absolutely love it," said Ellis-Crutchfield. "My brand and my vision for how I wanted to impact the world stayed the same, but the 'how' changed."
This article was originally published at: https://herforward.com/entrepreneurial-hurdles-advice-from-women-leaders/