This article was originally published at: https://herforward.com/female-entrepreneurs-speak-out-5-crucial-tips-to-maintain-that-competitive-edge/
One of the advantages of today's entrepreneurship is that no matter what you're trying to monetize, as long as you're passionate about your job and you're willing to put in the hard work, you can succeed in any field. The downside, however, is that the market has become way more competitive. Given the current situation, it is fundamental for every business owner to learn how to stand out from the competition. This is why we decided to ask five women entrepreneurs to share their secrets with us.
1. Find opportunities in competitor's deficiencies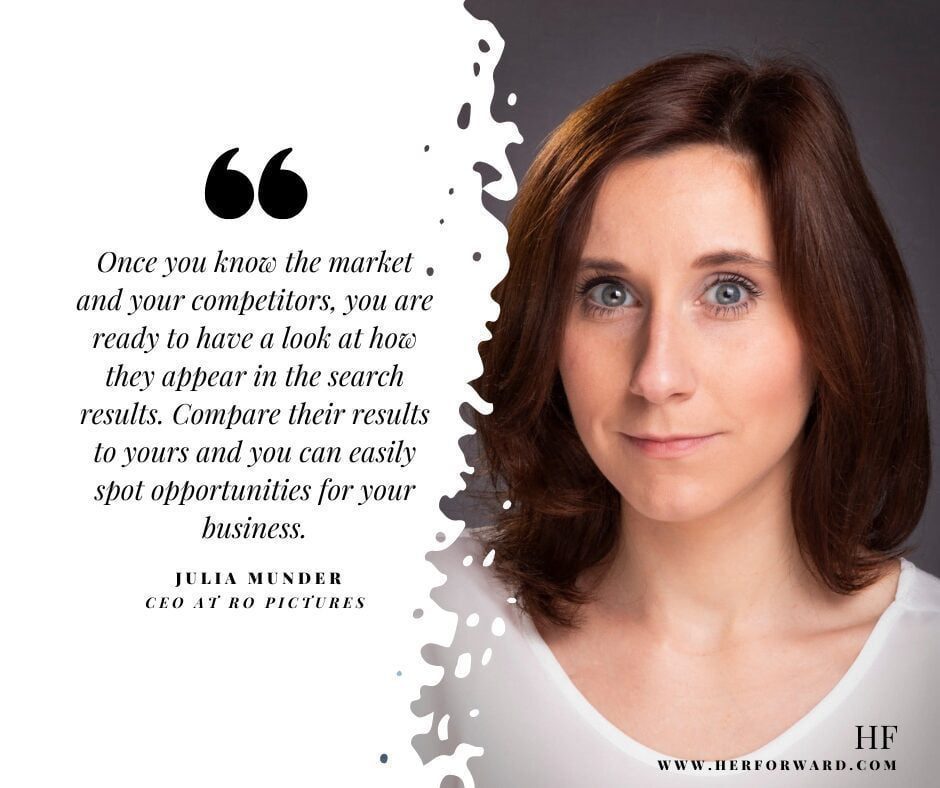 According to Julia Munder, CEO of RO Pictures, an end-to-end video production company, the key to standing out is to benefit from your competitors' deficiencies. 
"Finding competitors' deficiencies can be a great way to leverage opportunities that you might have not thought of previously," says Munder. According to this entrepreneur, you can achieve this by knowing your competitors' market. Carry out SWOT (strengths, weaknesses, opportunities, threats) and GTM-strategy (go-to-market) analysis, talk to their customers, and check their online reviews. "Once you know the market and your competitors, you are ready to have a look at how they appear in the search results," adds Munder. Search your competitors' brand names in the SERPS, and on what pages they are ranking the highest. Now you can compare their results to yours and spot the best opportunities for your business to grow. 
2. Hire the best employees 
An often underrated way to make your business stand out is by working with the best team. Mariana Aguiar, Co-founder and CMO at Desygner, a creative design and branding solution, believes this is fundamental to beating your competition. "As a bootstrapped company, to be able to compete against giants who are VC funded, we have to be laser focused on creating an impeccable product that our customers love while listening to their problems and solving them effectively," says Aguiar. From the very first year of her company, this entrepreneur has put lots of effort into personally replying to emails making sure every client was fully satisfied. As her business grew, she had to hire people who would put the same attention into this task. "Smart people with the mentality of listening to customers and having a keen interest to transform their problems into solutions is the biggest asset for any company."
3. Find your main value 
Nickie Cobble, Founder and COO of OutsourceAid, a company helping entrepreneurs to delegate unwanted tasks to virtual assistance, suggests focusing on your main company value. "Value can come in numerous forms, but you must pick one, stick with it, and ensure that you are the best there is at it," says Cobble. Good examples of values can be the speed at which you deliver your service, the effort required by your clients to order a product that suits their needs, or the amount of assistance given in the process. Cobble also suggests avoiding focusing on lowering prices as this will lead your competitors to do the same, resulting in a race to the bottom. "This would hurt your profit margins and stump your growth while, simultaneously, not offering your client any additional value," says Cobble.
4. Build a community 
Another way to stand out from competitors is to create a strong community around your brand. Emma Butler, Founder and CEO of the inclusive fashion line, Liberare, says "When a community is done right, it can make or break a company from its competition." Throughout her career, Butler has managed to create a community for disabled and chronically ill women around her brand. This is a space for women to make friends and talk about daily struggles and achievements. "Our community and our products aren't directly related, but we are able to build loyalty, honest connection with our customers, brand awareness, and get consumer insights with our online group," says Butler. 
5. Find the right mentors
Emily Kenison, inventor of Straplets and RobeCurls, recommends finding the right group of mentors. Entrepreneurs often rely on a single role model, but Kenison believes that in order to succeed you need to have several mentors able to support you through every step of your journey. "I like to find a mentor for each part of the business. For example, one specifically for marketing and one for product development," says Kenison. According to her, this will help you achieve success in each area of your business giving you a clear advantage over the competition. 
Making sure your business doesn't get lost in the thousands of companies on the market is not an easy task. Try one or more of the suggestions above and see whether they bring any change to your business. Chances are that in a few months, your current competitors will be the ones trying to stand out from your company!
This article was originally published at: https://herforward.com/female-entrepreneurs-speak-out-5-crucial-tips-to-maintain-that-competitive-edge/