This article was originally published at: https://herforward.com/living-your-dream-life-with-female-entrepreneur-jacqueline-maddison/
Many of us have aspirations for life with visions of what we want our life to look like. This could be a thriving career, healthy relationships, the dream house, or a car. However, although having a clear vision is essential to bringing your dreams to life, it needs to be backed up with consistent, hard work. Jacqueline Maddison, Founder and Editor-in-Chief of Beverly Hills Magazine also believes that passion is key when it comes to being an entrepreneur with the power to propel you towards your dreams and fulfil your purpose in life.
Where are you from originally?
Jacqueline Maddison: I was born in South Africa, and my parents moved the family to the US to pursue the American Dream. I can finally say that I am living it!
How did your unique background impact your life in the USA?
Jacqueline Maddison: Having come from a different culture and learning to adapt to the American way of life, I gained a unique perspective on how to deal with people, and how to overcome social challenges in order to build relationships and connect with others despite any differences.
What influenced you to become an entrepreneur?
Jacqueline Maddison: My Dad was an entrepreneur and always taught me that there is nothing I could not do if I put my mind to it. It was instilled in me at a young age to have big dreams.
When did you go from trying to doing?
Jacqueline Maddison: From day one, in 2012 when I wrote the very first fashion blog post for the magazine, I knew this was going to be an exciting journey of building my dream and working tremendously hard to do so. I am a doer. I am willing to work hard, and spend much time to create what I see in my mind's eye.
Why is vision as an entrepreneur so important?
Jacqueline Maddison: Your vision is everything. You are creating your future with it. Without a vision , people perish. That's in the Bible. It's vital to have big dreams, believe they can come true, and work hard to bring them to fruition!
Did you ever fake it until you made it?
Jacqueline Maddison: Well, I tried to start 2 magazines before this one, and both failed. But in hindsight they weren't really failures. They were necessary stepping stones on my journey that enabled me to learn valuable lessons and acquire skill sets needed in order for the 3rd publication to work. As they say, third time is a charm!
What have you done in your business to make it easier?
Jacqueline Maddison: I created systems for everything! It felt almost robotic at first, but once established, everything became much easier because the system was in place and kept all actions in order. It's like a well oiled machine.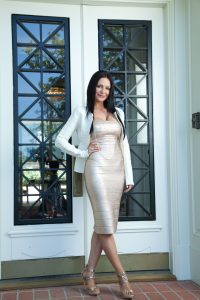 How do you define success as an entrepreneur?
Jacqueline Maddison: Success as an entrepreneur is all about freedom. Creative freedom, financial freedom, intellectual freedom, and spiritual freedom. Freedom is priceless and without it, you're a prisoner.
Was there a major turning point in your life where everything changed?
Jacqueline Maddison: Yes! In 2008 when the recession hit, I lost everything. I cried out to God to help me, and I surrendered my life to Jesus Christ. That changed everything for the better. God started guiding my life. I have prophetic dreams and supernatural encounters with the LORD. He has helped me rebuild my life and my character when I was down to nothing.
Why is passion important?
Jacqueline Maddison: An entrepreneur without passion is like a car without gas. There will be no power to do what needs to be done, to create the energy and momentum to go where your heart desires to go. Passion is the primary key to fulfilling your purpose.
How did your passion help you succeed?
Jacqueline Maddison: My passion is the power behind everything I create. It is passion for fulfilling my purpose and to accomplish what God has put on my heart to achieve. I'm living my dream life, and it's God's will for my life. I want to live it to the fullest!
You've said you're living your dream life; how can others live their dream life?
Jacqueline Maddison: We are all meant to live our dream life and it is possible when you walk not by sight but by faith. The power of faith is the driving force behind all manifestation. Coupled with desire it becomes an unstoppable force to bring forth that which you desire. God's will for your life is your dream life. You have to submit to God and let Him guide you into your destiny, which is your dream life. It's all about utilizing your gifts and talents that God put in your spirit to do what you naturally love to do, and are created to do.
Are you self-made success?
Jacqueline Maddison: I am in no way self-made. Everything I have is a gift from God, and without His grace and mercy, I could not have accomplished the work, or achieved the success if it was not given by His hand.
What are 3 pieces of advice you would give to aspiring entrepreneurs?
Jacqueline Maddison: My 3 greatest pieces of advice are the following…
Abandon everything you think you know, and seek the LORD God Almighty. Everything you have ever wanted, needed, wished for, hoped for, and desired is found in your personal relationship with Him.
Forgive everyone and everything that has ever happened to you that may have harmed you or hurt you in any way. To become your greatest self, you must allow all your wounds to be healed through the power of forgiveness.
Be willing to work hard and sacrifice the petty things for the purposeful things. Personal sacrifices are a requirement of success. One cannot have it all, until they have given their all.
As a female entrepreneur, Jacqueline Maddison is proof that having faith, a strong vision, and putting in a lot of hard work can help you manifest the life you want to live. Her unwavering faith in God has also been a guiding light to weather hard times and utilize her gifts and talents to live life to the fullest. The more we do things purposefully and with passion, the more power we have to shape our own future and achieve success on our own terms.
This article was originally published at: https://herforward.com/living-your-dream-life-with-female-entrepreneur-jacqueline-maddison/